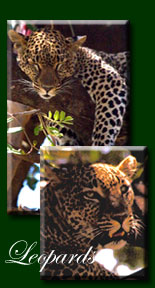 Samburu, is 7 hours north of Nairobi.....
Buffalo Springs is adjacent to the Shaba game reserve. I traveled up through mountains past Thompson's Falls, then close to Mt. Kenya, and finally back down the steep back side of the mountain range into Lake Nakuru- another 7 hours from Samburu. From Lake Nakuru we traversed back up through the mountains and back down out onto the plains, entering the Masai Mara game reserve from the north. The Masai Mara is another 7 to 8 hours by Land Rover from Lake Nakuru. The Masai Mara area is the northern tip, approximately 500 square miles, of the great Serengeti plains in Tanzania. There were times when I drove along the highland plains in the Masai Mara area just a few kilometers from Tanzania. These plains and Savannahs are where the great migration moves north in March and south in September and October. These vast plains where the great herds roam feel like home to me.
Being amidst these fantastic animals-Elephants, Cheetahs, Lions, Leopards, Zebras, Giraffes, Orx, and of course Rhino- is not only a great life learning experience it is an awakening of your intrinsic spirit, who you are, who you were and yes, where you came from- it is ultimately the home of my original spirit.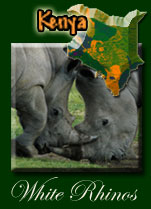 that fall down into rivers and rise again into great woodland areas. The goal this time was to find and film Rhino, Leopards, and once again experience the great migration. The Mara River cuts deeply from east to west, its steep banks making formidable ventures for migrating Wildebeests to cross. There are hundreds of places along the Mara where thousands of Wildebeests and Zebras may choose to cross at any moment in time. The Mara is a deep, wide river, filled with Hippos and Crocs. There are few places for people to cross, and mainly one bridge, that stretches a one lane crossing high above, twisting and turning rocky rapids. In these rapids many Wildebeest and other species who either are killed by Crocs when crossing or who don't survive the crossing, are caught up in the rocks. Here, they rot and scavenged by storks, vultures and crocs. When you cross the bridge, it is impossible to stop or stay very long because the guards wave you on and the smell is overpowering.. When I crossed, the stench from the rotting dead was so strong I had to cover my face-There is a Swahili name they use to describe these rapids-
"Place of the dead."
Kenya was an adventure....

of many, many rough miles, challenges, and pure exhilaration. I spent an hour in the rain in Lake Nakuru with a group of Rhino playing and sparring with each other. In the Samburu I tracked and found my Leopard, by chance, sleeping in a tall Sausage Tree with her meal (an Impala) hung up on a branch behind her. Here where my spirit home is- I once again found many animal species and brought back pictures and tales for you to enjoy-
Many poems are coming soon!


Kenya is a diversified, and unique country.
Enjoy the Leopards, Rhino, Lions and other wild life species here. Many remain endangered- Jambo!! the ghostbear
Please feel free to contact me if you have questions or comments -
Thank you for your interest!