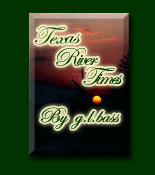 Visions are from my muse.
She travels with me, inspires me, and leads me into dreams so real, when I awaken, I wonder where I've been. Every artist, poet, painter or writer, spends their entire life trying to capture the haunting inspirations of their muse. Not until a few years ago did I realize that mine was a very mystique lady who climbs inside my heart and my head, when she wants something to be said. While all of my poetry is in some way or another spiritually driven, Visions, are more fantasy than reality. They are dreams and schemes of my muse who, for some reason I cannot understand, likes to stay up late and watch the moon commit to it's final rise, but shake me out of bed in the morning to see day break across the sky. She's very hard to please, and she plays games with me, giving me a bit of inspiration one day, then waiting a few more
to add to the image building in my head.

Welcome to her poems and stories,
I hope you enjoy them. I'm sure that one day, I'll meet her. I've found parts of her in many women, who I dedicate my works to, but I'm sure, she'll have me chasing her dreams forever. Greg