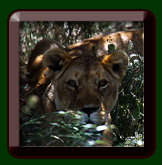 I had many experiences with these hunters
and marauders of the African plains.

They are truly a wild, beautiful, and unique predator of the world. One cannot understand, or grasp their power, their reckless life style, their determination and fierce demeanor until you've lived with them where they live. They regard very little, they fear nothing, and they're fierce hunting skill and demeanor is not matched by any other creature I have filmed, or witnessed anywhere. Yet they are tender and protective of their young family members and of one another within their pride. These predators, as you will see, are also beautiful and majestic. You will see a picture of an old male that was one of the largest I have ever seen. When he stood up, his head could have easily looked right in the Land Rover window. He was very old as the picture you will see tells, but his size was wondrous-perhaps that's why he still had a pride of his own at his age.
He truly was a MONSTER King. Have fun!